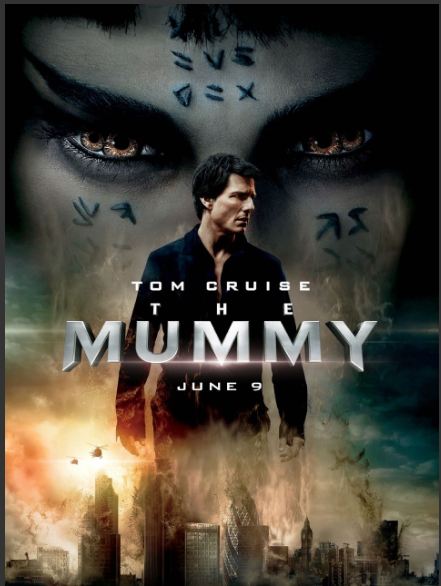 Karachi May 17, 2017—Universal Pictures announced The Mummy Day, inspired by the upcoming action-adventure, which will launch at 12 P.M. PDT on Saturday, May 20. Audiences of all ages are invited to visit the enormous 75-foot, 7-ton sarcophagus, which will be revealed at the Hollywood & Highland gateway in Los Angeles.
The Mummy star Tom Cruise will be joined on stage by his fellow co-stars and director Alex Kurtzman to invite participants to enjoy The Mummy VR Zero Gravity Stunt Experience and The Mummy Escape Game at the complex. Fans can tune in and watch the revealing live on The Mummy Official Facebook page and Fundago's Facebook page.
The Mummy arrives in cinemas across Pakistan and worldwide on June 9th, 2017. The largest single vertical structure ever assembled at the gateway, The Mummy sarcophagus measures 75 feet in height, 28 feet in width and weighs an astonishing 15,000 pounds.
"The Mummy has been such a labor of love for the hundreds of cast and crew who have worked for the past few years preparing its big-screen launch," said Alex Kurtzman, Producer and Director, The Mummy. "When we built Princess Ahmanet's sarcophagus for production, we had no idea that a replica of her 'eternal' resting place would one day find its home at the intersection of Hollywood & Highland. I can't wait to celebrate her story with the fans on May 20."
"The Mummy is cinematically spectacular with extraordinary action and visuals that are even more stunning and memorable in 3D," said Mohsin Yaseen, GM Marketing, Cinepax Cinemas. "Erecting a 75-foot tall, 7-ton sarcophagus at one of the world's most popular tourist destinations is the perfect way to launch this epic event. The 3D in The Mummy is mind-blowing, and we can't wait for audiences to experience it on one of our RealD-equipped screens worldwide."
The Mummy Zero Gravity Stunt VR Experience goes behind the scenes with Cruise and Wallis as they perform the intense Zero G stunt as seen in The Mummy, allowing guests to experience the world of The Mummy in a way they could only imagine.
Moreover, In The Mummy Escape Game, an immersive live-action fan experience that also makes its world premiere at The Mummy Day, guests will be recruited as security guards and enter the sweeping story of The Mummy by travelling through multiple rooms to solve the puzzle and defeat the game.
The creative team on this action-adventure event is led by director/producer Alex Kurtzman and producer Chris Morgan, who have been instrumental in growing some of the most successful franchises of the past several years. The Mummy is being released in Pakistan by FootPrint Entertainment the movie distribution arm of Cinepax Cinemas on 09th June 2017.