7th Sky Entertainment's current rom-com drama serial 'Shahrukh ki Saaliyan' released its 12th episode last weekend, and it was loaded with fun, laughter, jealousy and complications in Shahrukh's life!

Just like the other episodes, this one was a complete power pack as well. Ramsha Khan is seen in the role of Anoushay, with her amazing-as-always acting skills, throwing all kinds of contemporary and attractively cool vibes from her desi-western amalgamation dressing and super cute expressions.

The episode starts with Shahrukh (Ahsan Khan) and his friend Glucose (Raza Zaidi) ready to conquer an obstacle in Shahrukh's way to get Anoushay. Dressed up as chauffeurs from a 5-star hotel, they are on their way to kidnap Abu Bakr, the main cause of Shahrukh's brimming jealousy over his fiancé, Anoushey.

After Abu Bakr arrives, Shahrukh and Glucose take him as hostage without revealing their true identities and move towards a barren place on the highway, where they tie him up with ropes and threaten and scare him against mingling with any girl, especially the married ones, to which
poor Abu Bakr agrees. Shahrukh, who's already burning with jealousy, smashes Abu bakr's phone after seeing Anoushey calling Abu Bakr on his phone before he leaves him on the road and takes off.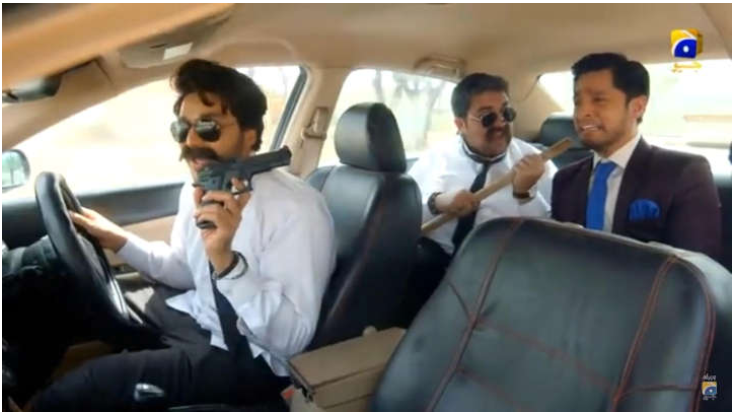 In the next scene, the four sisters are seen gossiping about Nigar's sudden engagement with Abu Bakr, and Anoushey asks everyone to stay quiet, so she could surprise Shahrukh. She fantasizes about how happy he will get when he'll know they are one step closer to getting married.

All sad and looted Abu Bakr returns home. Seeing that the coast is clear, Shahrukh and Glucose go inside and inquire more about his kidnapping, pretending to know the kidnappers as very dangerous hooligans who go by the name of 'Anjuman Islah-e-Marda Gang'.

Anoushey takes Abu Bakr to another room for some reason, and Shahrukh furious with unbridled jealousy and unreasonable rage, kidnaps Abu Bakr one more time and this time demands him to leave the country immediately, to which the terrified Abu Bakr agrees.
The next day, while everyone is ready for the Nikkah ceremony of Sharukh and Anoushay, and Nigar and Abu Bakr, panic arises when the grooms don't show up. Once Shahrukh reaches the venue and discovers the truth about Abu Bakr and Nigar, he is shocked and embarrassed and tries to stop Abu Bakr from leaving. He however fails, and goes back to Anoushay, who believes their love is now under the influence of an evil eye.

What will happen if Shahrukh fails at bringing Abu Bakr back? Will Nigar be heartbroken, or will Shahrukh be able to make everything fine again? To find out about this and more, wait for the episode to be aired next Sunday, only on Geo TV.

Snapshots are taken from the screen of GEO TV.